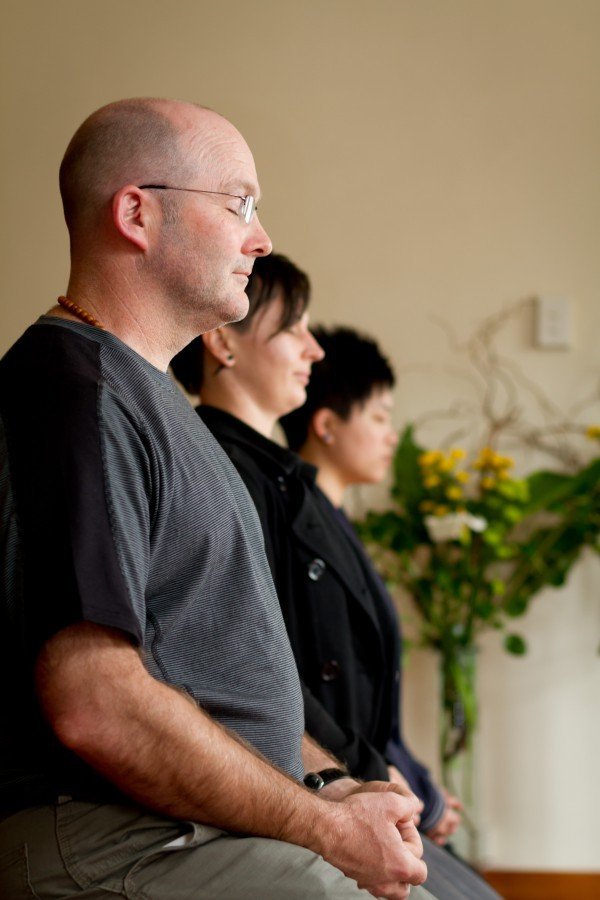 What is meditation?
Meditation is a method of mental and emotional development which can positively transform our experiences and lead to a new understanding of life.
Buddhist meditation practices encourage and develop concentration, clarity, emotional positivity, and seeing the true nature of things. They are an active process of increasing awareness of body, feelings, thoughts and surroundings in each moment. Meditation offers a means to cultivate new, more positive ways of being.
We teach two general types of meditation practice for beginners:
Practices that calm and clarify the mind. They relax physical tensions and release psychological blocks, leaving us in a concentrated, deeply contented state. The turbulent waters of our mind become still, conflicting energies become unified, and we are left with a feeling of peace, and even bliss.
Practices that cultivate emotional positivity. These techniques work directly with our intentions, values, and emotions. They provide us with a window into our motivations and commitments, create the opportunity to see things differently, and allow us to more effectively change the direction of our lives in ways that create a richer and more meaningful experience.
As proficiency in these meditation practices is established, it is possible to use this calm, clear, emotional positivity to see more deeply into the true nature of reality, giving rise to true wisdom and ultimately transforming and liberating the mind.
Benefits
Meditation is an art that repays patient, persistent and regular practice. Over time, the positive states experienced on the cushion spill over into the rest of life providing a wide range of benefits, some of which include:
Increased calm, peace of mind and friendliness
Improved physical health, a reduction in stress and more restful sleep
Greater self-understanding and compassion
Richer and more meaningful experiences
Less penny-in-the-slot reactions, and more true choice
The benefits increase with time and practice, and ultimately offer a means of self-transformation, opening the mind and freeing the heart.
Courses
Our six-week meditation courses provide instruction in two meditation practices: the Mindfulness of Breathing and the Metta Bhavana. Together they help develop relaxed awareness, clarity and compassion.
The courses introduce the essential principles of Buddhist meditation, and provide you with the tools needed to work effectively within your meditation practice. Everything is provided at the course to support your learning, all you need to do is come along in casual, comfortable clothes.
See the Meditation courses events page for details of upcoming classes.
See our Buddhist Recovery Network page for people recovering from addictive behaviors who wish to include meditation in their recovery process.
Developing your meditation practice
Although there is no substitute for personal meditation practice, it does help to meditate with others for encouragement, support, and further tips. We offer a variety of classes, retreats, and group meditation sessions you can attend. Please call us at the centre (tel. 378-1120) to discuss what might work best for you, or simply browse our upcoming events.
Here are some of our upcoming meditation retreats and Buddhism courses that might be of interest. Or visit Free Buddhist Audio for downloadable talks and led meditations from the international Triratna Buddhist Community.
Weekly Meditation Sessions
Meditation is part of all our activities, but there are also times when we simply gather together to meditate. Attending a group meditation can be a great support to our personal practice. Particularly when we are first learning to meditate. There are a three weekly sessions which include meditation instruction and are suitable for beginners:
Tuesdays & Thursdays 9:30 to 10:30 am & Saturdays 10:00 to 11:00 am
And one session which has no instruction and is for people who already know how to meditate:
Saturdays 9:00 to 9:50 am
Please note that during the Covid 19 Level 4 & 3 restrictions we are offering an online programme only. Visit our regular events page for a full list of live, led meditation sessions and other open events.
Please arrive early since the doors are locked once meditation begins.