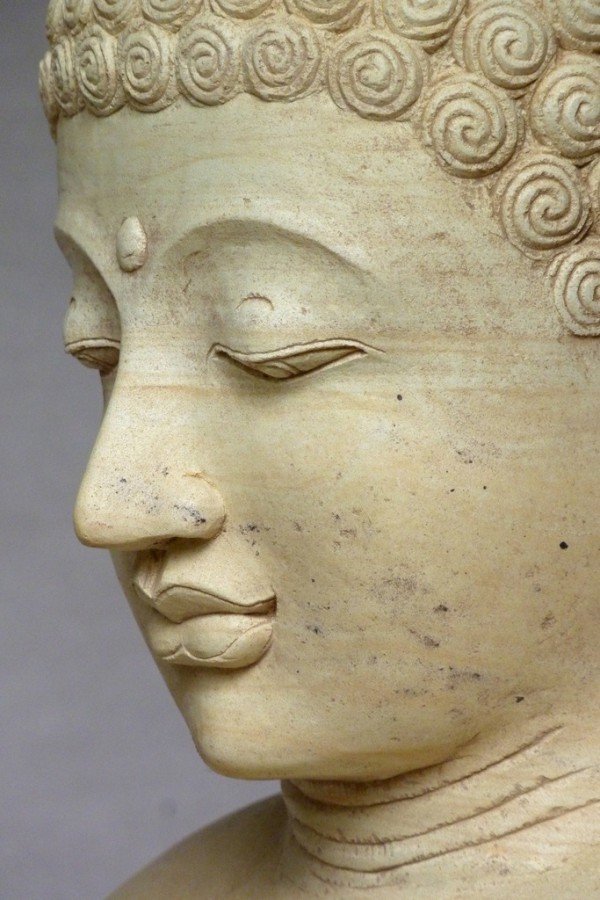 What is Buddhism?
It began about 2,500 years ago in what was then northern India, but is known these days as Nepal. The story goes that Siddhartha Gautama gained Enlightenment at the age of 35. He was the son of a noble man who had led a sheltered life of privilege and luxury but became dissatisfied when confronted with existential questions about suffering, old age and death.
He left his home and began an intense spiritual search that led eventually to his Enlightenment, a full and profound insight into the nature of reality. From that time on Siddhartha became known as The Buddha.
Buddha is a title, not a name. It means "one who is awake", in the sense of having woken up to reality.
For the next 45 years the Buddha, out of compassion, spent his life showing the way to others. He had seen and experienced suffering, understood how suffering arises on the basis of certain conditions, and realized that when those conditions were not present suffering did not arise. Based on this realization, he began to teach the practices which lead to the cessation of suffering. Framed more positively, practices which also lead to boundless freedom, lucidity, deep contentment and joy, spontaneous creativity, and limitless energy.
Many of his followers also became enlightened and an unbroken chain of teachers has continued down to the present day. Any human being with enough energy, idealism and willingness to change can also awaken in the same way. Buddhism is a path of boundless growth that places your spiritual destiny in your own hands.
Courses
Throughout the year we offer a series of 6 to 8 week courses introducing a variety of themes on Buddhism. The classes provide a grounding in the fundamentals of Buddhist principles and practice. They give an opportunity to learn and try these out in the light of one's own experience, in an atmosphere of friendly, encouraging, and open communication. They assume no prior knowledge, but can also take those with some familiarity a bit deeper.
Teaching is provided by members of the Triratna Buddhist Order and community who are themselves experienced in the study and practice of Buddhism and meditation. Everything is provided at the course to support your learning, all you need to do is come along in casual, comfortable clothes.
See the Buddhism courses page for details of upcoming classes.
See our Buddhist Recovery Network page for people recovering from addictive behaviors who wish to include the teachings of Buddhism in their recovery process.
Developing your practice
If you decide to explore Buddhist practice more deeply, you are welcome to attend our Monday night or Tuesday morning Dharma classes. Both aimed at introducing new people to Buddhism. In addition, we offer regular group meditations, residential retreats, and weekend workshops throughout the year. As a service, we maintain a small bookshop which stocks some basic books on Buddhism, meditation CDs, incense and candles. Between classes you can also visit Free Buddhist Audio for downloadable talks and led meditations from the wider international Triratna Buddhist Community.
One of the most direct ways to develop your practice and understanding of Buddhism is to tap into the network of friendship and common practice between people at the centre. We all try to make it easy for new people, but would also like to encourage you to take the risk and make the effort to introduce yourself and ask questions. It is possible to meet personally with one of our teachers from the centre, just call us to make an appointment or ask us personally next time you see us at the centre.
Here are some of our upcoming meditation retreats and Buddhism courses that might be of interest.
Dharma talks at the Auckland Buddhist Centre
A collection of talks given by the Sangha available for download