Under 35s & Sangha night
The Great May Meditation Challenge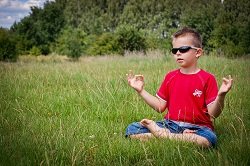 The best way to establish a habit is just to do something repeatedly - in this case, meditate every day during the month of May!
The Wednesday night teams (Sangha Night & Under 35s) have joined forces for this challenge. Through a variety of mediums - short talks, discussions, Q&A, led practices - we'll be helping each other establish and deepen our meditation practice.
Tonight's particular focus is cultivating kindness and curiosity towards our experience.
This is a great opportunity to challenge yourself to make mediation a priority. For people who are new to meditation, it's a time to get some direction, as well as helpful feedback on how to work with difficulties. For more experienced meditators, it's a chance to refresh your practice, challenge yourself to deepen your commitment and share your valuable experience with others who are starting out.
When
5 May 2021 7:00pm-9:15pm
Cost