Sangha night
The four sights: hearing the call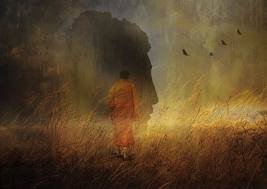 Siddharta Gotama, as he was known before he became the Buddha, lived the life of a precious prince. Protected his whole life from any kind of suffering and distress, he was the ultimate "helicoptered" child. Sneaking out of the palace over a number of days, he finally encounters suffering in the forms of sickness, old age and death. He is horrified to then discover that these things are waiting for him, too. Only the sight of a holy man in yellow robes gives him any indication that there is another way of living this life. He decides to leave his protected existence and search for an answer to the malaise of suffering.
In this series of talks, through personal reflections, we will explore these "four sights."
We will cover:
when the good life is too good for our own good
hearing the call to the spiritual life
cultivating a beneficial relationship to suffering
learning to let go to what no longer serves us
facing into old age, sickness and death
awakening the courage to set out on the path of the unknown
Wednesday nights are a place for people who have attended our foundation courses to come together and celebrate community as well as an opportunity to deepen their knowledge of the Buddha's teaching.
When
10 March 2021 7:00pm-9:00pm
Cost