Sangha night
Exploring spiritual community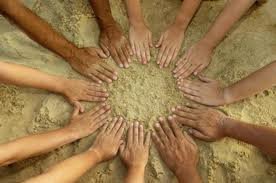 Being part of a spiritual community is an essential part of the Buddhist path. However, for many people, becoming part of such a community gives rise to feelings of anxiety and false expectations.
In this series of talks we will explore the two dynamic poles of spiritual community. On the one hand, the opportunity to realise our own unique contributions, develop our strengths, allow our individual flavour to shine, and be appreciated in a meaningful way within the group context. On the other hand, by putting aside our individual goals and serving our community, we find that our progress flourishes as we care for others and deeply connect with each other.
Tonight: Deepening our friendships with Varjasarasi and Malcolm Dow
In tonight's session, Vajrasarasi and Malcolm will talk about how they deepen their friendships. Drawing on their experiences of being part of the team coordinating Wednesday Sangha nights, they will discuss the importance of friendship in the spiritual life as well as the conditions that have allowed them to strengthen their sangha bonds.
Wednesday nights are a place for people who have attended our foundation courses to come together and celebrate community as well as an opportunity to deepen their knowledge of the Buddha's teaching.
When
14 April 2021 7:00pm-9:15pm
Cost