Ancient wisdom for modern overwhelm
Secret techniques of the conquerors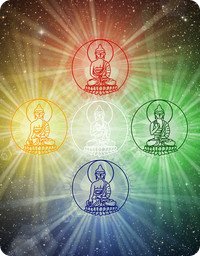 The secret techniques of Buddhism's five conquerors can help us overcome a sense of overwhelm in our personal lives and the world.
It's easy to feel overwhelmed these days. We do, after all, live in interesting times - facing climate change, terrorism and social and political upheaval, alongside the challenges of our personal lives. How can we conquer this sense of overwhelm, staying engaged with the world while living purposefully and well?
In this six week course, you'll learn how to use the ancient five-Buddha mandala creatively in your own life, to conquer helplessness and overwhelm.
When
17 February 2020 7:00pm-9:15pm
24 February 2020 7:00pm-9:15pm
2 March 2020 7:00pm-9:15pm
9 March 2020 7:00pm-9:15pm
16 March 2020 7:00pm-9:15pm
23 March 2020 7:00pm-9:15pm
Cost
$190 waged or $120 low income or unwaged