Sangha night
Online - sharing & deepening our practice together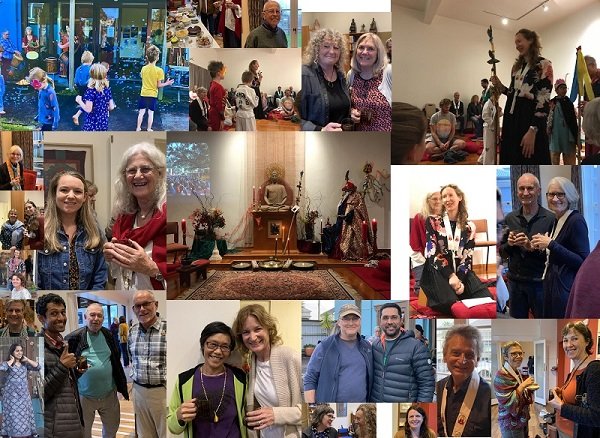 Sangha night remains online while we complete this series
Use this link to join online: https://zoom.us/j/8179125195
TONIGHT: The Three Jewels
Tonight Vajrasarasi will introduce us to the Three Jewels of Buddhism. This concept is particularly important in the Triratna tradition, as the Sanskrit name for our movement literally means "three jewels".
If you look at an order member's kesa (the white scarf around their neck), you will see that it has 3 brightly coloured orbs on it. The yellow orb is the Buddha jewel, the blue orb co-responds to the Dharma jewel and the red orb represents the Sangha jewel. The 3 jewels: the Buddha, the teachings of the Buddha (dharma) and the community of people who follow the Buddha (sangha).
You may have also heard the phrase " I go for refuge to the 3 jewels" and wondered how on earth these things can provide refuge and what kind of refuge they provide.
Tonight Vajrasarasi will explain these mysteries, so that this fundamental concept - central to the whole of the Buddhist life - becomes clear and accessible.
Wednesday nights are a place for people who have attended our foundation courses to come together and celebrate community as well as an opportunity to deepen their knowledge of the Buddha's teaching, and their understanding of how to practice it.
When
18 May 2022 7:00pm-8:15pm
Cost