New Zealand Buddhist Council
10,800 Steps for Peace 8am Saturday 24th November ( Auckland event )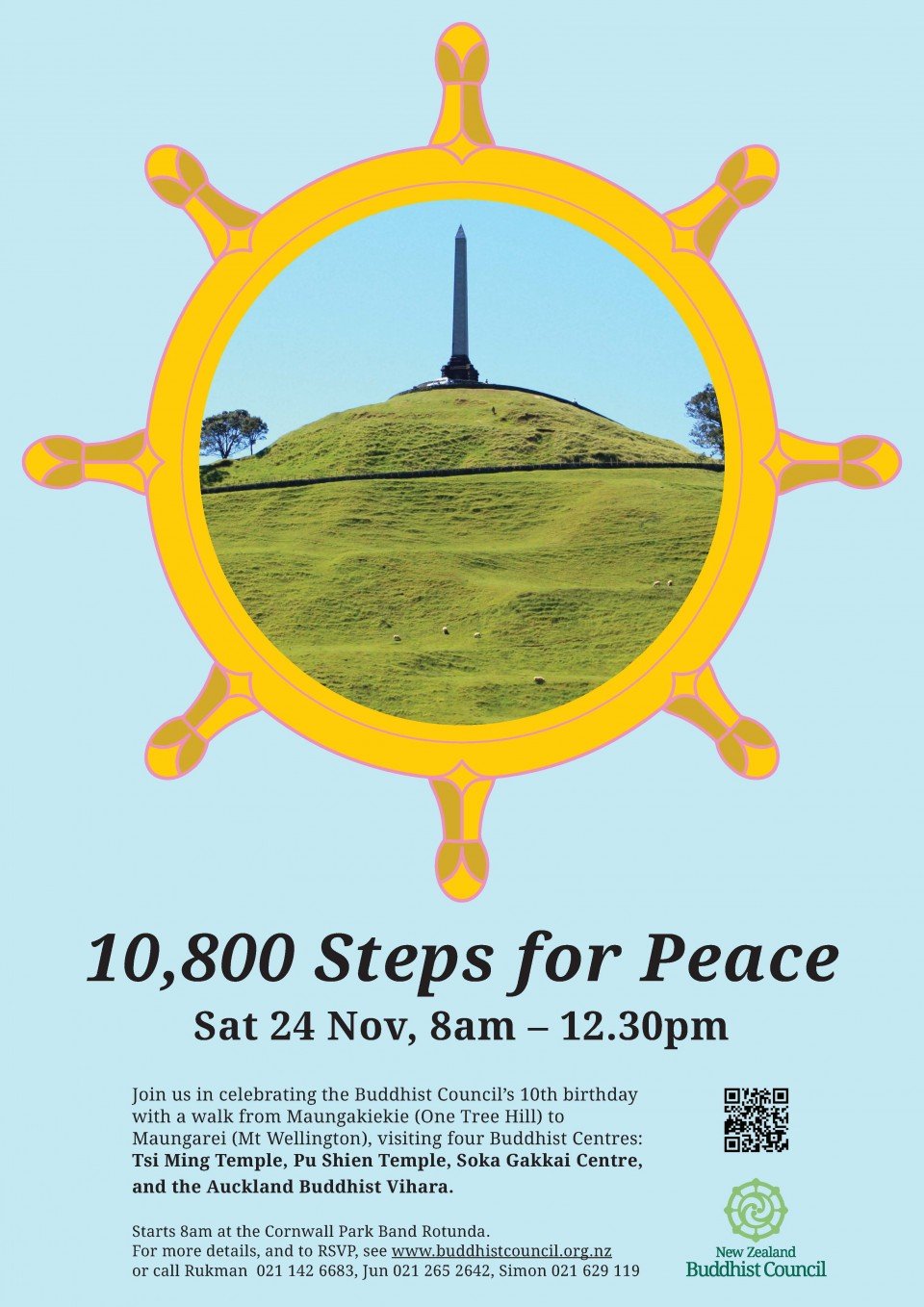 Join in the celebration of the Buddhist Council's 10th birthday with a peace walk from Maungakiekie (One Tree Hill) to Maungarei (Mt Wellington), visiting four Buddhist Centres — Tsi Ming Temple, Pu Shien Temple, Soka Gakkai International NZ Auckland Centre, and the Auckland Buddhist Vihara.
When: Saturday 24 November, 2018. 8:00 a.m. to 12:30 p.m.
Where: from Maungakiekie to Maungarei
Starts: 8:00 a.m. at the Cornwall Park Band Rotunda
Light refreshments will be offered at Pu Shien temple. RSVP using this form or call Rukman 021 142 6683, Jun 021 265 2642, Simon 021 629 119.
The principal objective of this event is to reflect and celebrate the links between Buddhist groups and their involvement in the wider community.
The walk links two volcanic cones and four temples, representing significant spiritual communities in Tamaki Makaurau. It is striking that between just two of Auckland's maunga, there are four well-established Buddhist communities. Lines drawn between other mountains would yield similar results.
The walk is a chance to express our gratitude for the Buddha's teachings, and for being able to practice freely in New Zealand, and to celebrate what we aspire to practice — ways of cultivating inner peace, kindness and wisdom.
Click here for more information on this NZ Buddhist Council event