New mural for the centre - has started
welcoming 2021 with some creativity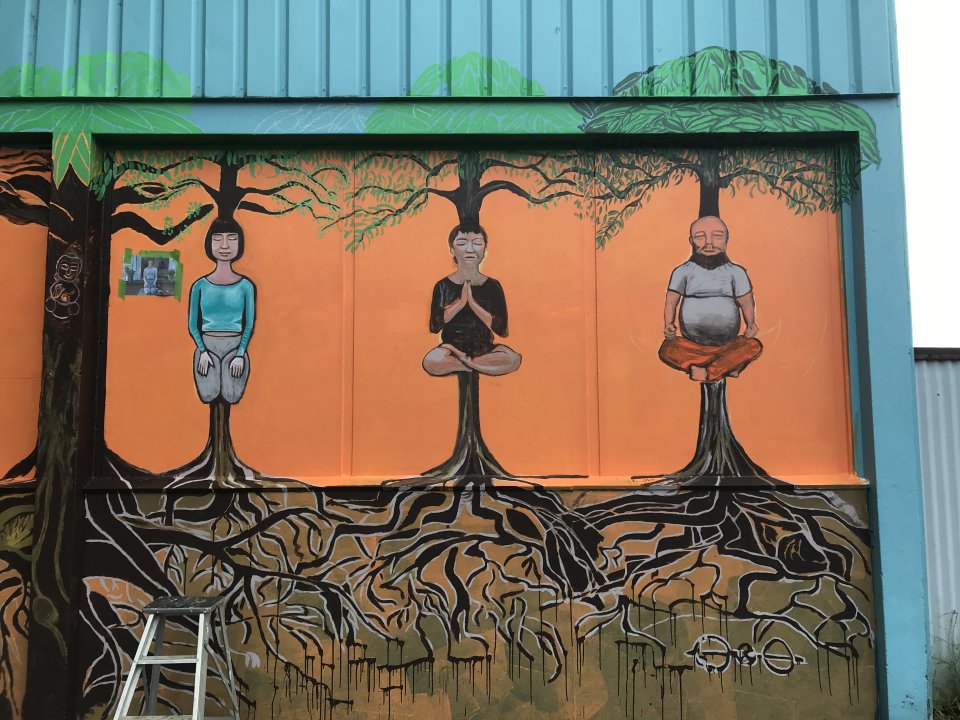 As many of you will know, Sangharakshita (the founder of the Triratna Buddhist Order) was very keen on the natural connection between the Dharma life and the Arts. And at many Triratna centres around the world, not only are there a fair number of artists in the sangha, but celebration days frequently involve plays, painting, murals, music, and other such acts of imaginative connection and creation.
Many years ago, we had the idea of getting someone to paint a mural on the side wall of the centre. After some struggles and stalling due to process by committee, we were very thankful to Clint Taniguchi who single handedly created our first mural installation in 2017. From the start we never intended the mural to be there forever but to change every 4-5 years. We are very grateful to Clint for kicking off what we hope will become a long standing and evolving tradition.
Along these lines, Ratnavyuha has been trying to initiate some interest in creating the second installation. This has finally come to some fruition through the enthusiastic willingness of Tom to come up with a creative design, lead the way, and believe in the project - plus the energy of Matthew who joined in the process. We have started.
From the photo, you can see our basic outline and where we are going with this. Our plan is to involve the wider sangha at some point in the future by holding a special event where people can add their own flowers along the ground, below the figures. We also hope to get some birds in the trees and already have someone in mind who we want to ask.
At the moment, the project's material costs are being guaranteed by Ratnavyuha in order to get it started. We are accepting donations toward these costs of painting supplies. Any donation is appreciated. The Auckland Buddhist Centre's bank details are below.
Account number: 38-9017-0587187-01
Account name: Auckland Buddhist Centre
We are a registered charity and donations over $5 are tax deductible. Include "mural" and your last name in the bank transfer reference fields. And if we don't already have your address and full name details on file, please contact us with that information so we can send you a tax receipt at the end of the year. Thanks in advance!