Living with Kindness: free online download
Dharma books from Windhorse Publications (until 4th May)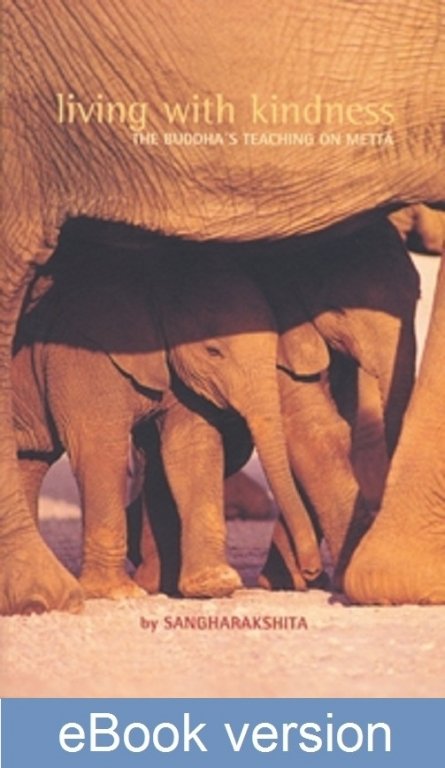 'This is what should be done by one who is skilled in goodness, and who knows the path to peace…'
These are the opening lines of the Karaniya Metta Sutta, the discourse on loving kindness. This is the sutta that introduces the loving kindness or Metta Bhāvanā meditation practice.
This week's eBook giveaway is a commentary by Sangharakshita on this beautiful and practical guide to living a competent, ethical and liberating life. The book is Living with Kindness. You can download it here until the 4th of May.
Kindness is the best medicine! Especially now, when all of us are adjusting to conditions beyond our control. We don't have to wait for kindness to arise spontaneously. We can train the heart to find greater joy in connection and generosity. First, we need to know what is wholesome, and then we can follow the path to bring that wholesomeness into being.
Living with Kindness will be part of a new home retreat Being Divine Online offered by The Buddhist Centre Online and Ratnavandana from Friday the 24th of April. You can find out more about it here, and join others to cultivate loving kindness and explore compassion, joy and equanimity.
If you want to explore the early Buddhist teachings on the relationship between loving kindness and insight, Compassion and Emptiness in Early Buddhist Meditation by Anālayo is available to buy here.
Over the last weeks, more and more people have been coming to our website to download free Dharma eBooks. Thanks to those of you who have added a donation along the way. It makes a big difference.
Please feel free to share this post with friends who might want to read the eBook or join the home retreat with Ratnavandana.
Take care, and be kind.
With all best wishes,
from the Windhorse Publications team: Dhammamegha, Michelle and Helen