Books in NZ Prisons
Some of the best Windhorse Dharma and meditation books coming to New Zealand prisons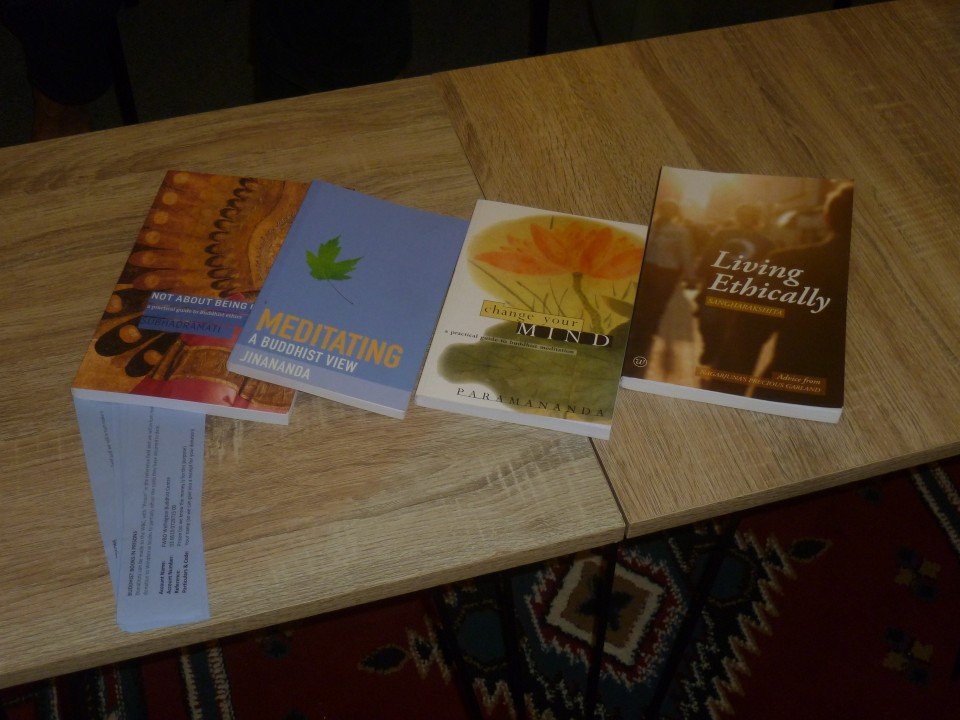 Some weeks ago, Satyadevi (a Triratna Order member based in Wellington) investigated the distributing of Buddhist books to NZ prisons. With the help of Saradarshini, from the Wellington Buddhist Centre, Windhorse Publications has donated 60 books for this purpose.
This has resulted in being able to send a copy of 'Change Your Mind' by Paramanada, 'Meditating, a Buddhist View' by Jinananda and 'Living Ethically' by Sangharakshita to all 18 NZ prisons. In addition - each women's prison will receive a copy of 'Not About Being Good' by Subhadramati.
Satyadevi says:
'After reading a brief report on Buddhist books being offered gratis to prisons in the U.K. from Windhorse Publications I Immediately wrote to Priyananda - their director. I asked if here in New Zealand our 11,000 people in prisions could have the same great advantage and access to the Dharma through Windhorse books. The response has been wonderful. With Saradarshani's energetic support, and my Chaplaincy supervisor Amala's offer to ask the New Zealand Buddhist Council for support too, we will soon have 3-4 of the best Windhorse Dharma and meditation books in all 18 New Zealand prisons.'
Windhorse has given the books but have asked for a donation towards their cost. The NZ Buddhist Council will pay for postage and packaging within NZ.
It's wonderful that this venture is being implemented and who knows how many lives it might touch. Additional books may be available in the future but for now if you would like to make a donation towards the cost of these books it will be gratefully received.
Donations can be made to the Wellington Buddhist Centre with "Prison" in the reference field. They will in turn make a donation to Windhorse books to partially offset the costs they have incurred to date.
Account Name: FWBO Wellington Buddhist Centre
Account Number: 03 0510 0729715 00
Reference: Prison (so we know the money is for this purpose)
Particulars & Code: Your name
If you would like a receipt for your donation please contact wellingtonbuddhistcentre@gmail.com