Basic tips for online gatherings
improve the experience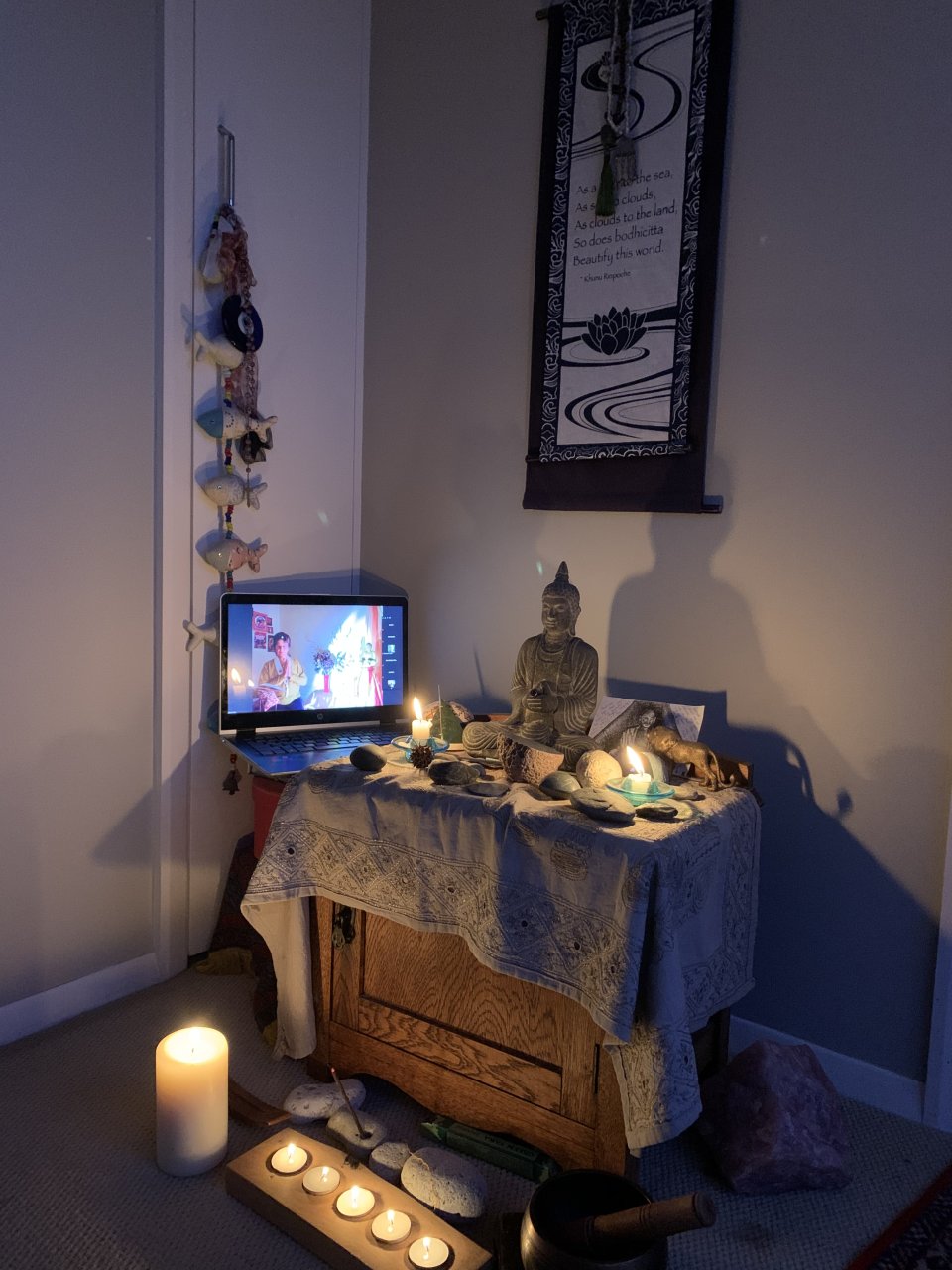 prepare the basics: internet connection, audio, and lighting
make sure your internet connection is strong! This is probably the most important thing. Best possible option is to actually plug into the modem (using an Ethernet cable) if at all possible rather than relying on WiFi. Next best is to be as near the wifi modem as possible.
use a headset, ideally with a built-in microphone but even helpful without a built-in mic; this both minimises background noise and reduces the likelihood of feedback, which happens when the sound from the speakers feeds back into the mic.
ideally, sit with a soft or indirect light source in front of you rather than behind you
arrange your technology so it is stable and we don't all get seasick - place it on a firm surface rather than on your body and get it set up before you turn on your video. Great to have your head AND shoulders in view. Perhaps bring your device up to head height so you're looking straight at the camera rather than down at it; books are handy, or shoe boxes, or even a stool if you want to sit on a comfy chair.
find a quiet space and warn family members and housemates that you're joining an online gathering. If you're having connection issues, perhaps see if they will agree to not stream movies or play online games during that time?
final details before session time
eliminate distractions in your space
remind family members and housemates that you're about to go live
look in a mirror to make sure you don't have spinach in your teeth
get yourself a glass of water or tea
silence your phone (or better yet, put it out of sight entirely)
close other programs that you might have up on your device and turn off notifications
join the session 5 to 10 minutes before the starting time
other points about the technology
be prepared for technical issues; they're inevitable AND we'll sort through them. If something goes bump, just smile and stay quiet in case the host needs to ask someone to do something - otherwise your talking might prevent people from hearing important instructions.
if you can tell that you're frozen or everyone else is frozen for you, just leave the meeting and join it again. You can have the online meeting link open somewhere handy in case this happens; you don't want to have to go digging around in your email to find it.
staying in connection with people
acknowledge any feelings you might have about the technology and get comfortable interacting online. We're all in this together. Be patient with the online process: this is emergency management not well-developed online teaching. Everyone is learning at the same time. You've got this! ...and you're not alone.
trust in the human connection and don't fret too much about the technological one. In the end, the most important thing is that we are coming together rather than the quality of our lighting.
online meetings are not worse than in-person, and they can even be better in many ways, but they are definitely different.
in addition to health issues, hearts are breaking everywhere. Plans have been cancelled, people's lives are changing and no one was prepared for this. Ask how you can contribute. It is always beneficial to cultivate kindness, patience, and generosity ... particularly in times of radical transition and uncertainty.