Sudarshanaloka
Tararu Valley, Thames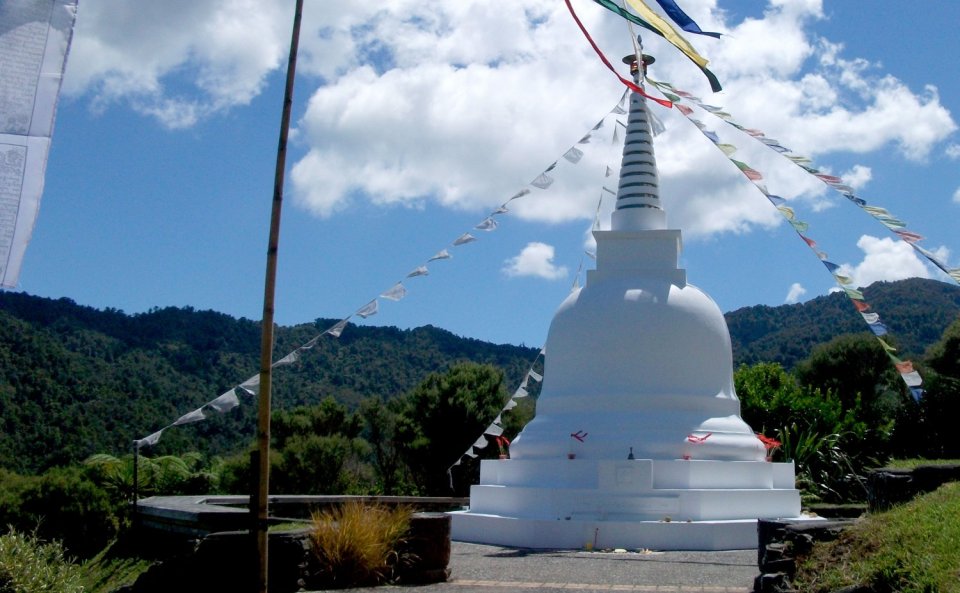 Sudarshanaloka means "Land of Beautiful (or Happy) Vision". This Vision is not only about the beautiful view of the hills and water and native bush, "Beautiful Vision" is also about Sangha working together to manifest their shared vision through collective work and practice...not just some abstract unreachable beauty, but the beauty of Sangha.
Going on retreat at Sudarshanaloka
Retreat accommodation is simple, with shared rooms, communal dining and a small shrine room separate from the main house. Meals are vegetarian and we share the cooking and other domestic work amongst those on retreat. We can cater for vegan, gluten and dairy free diets if required.
Retreats start with a shared meal on the first evening. So you can just arrive and we'll cook up something for everyone to eat.
Lovely swimming holes in the two streams that border the property and bush trails provide plenty of opportunity for outdoor enjoyment, so come prepared to engage with the elements.
Driving from Auckland?
Allow approx 2 hours from Auckland in average traffic.
Approx 3 minutes drive north of Thames (in the direction of Coromandel Town) pass the blue Tararu Dairy on right. Take the second turn on right, Victoria St, opposite retirement village and signposted to Dixon's Holliday Park and butterfly farm, after a long straight section of road.
Continue up unsealed road for approx three kms, crossing the river three times (two fords then a bridge) until the road opens out on the right to a grassed area with fence and sign saying Sudarshanaloka, land of beautiful vision.
Go through the gate, cross the ford and continue 60m to parking area by the shed. The retreat house is above the shed - up the stone steps to the left. Parking space by the house is limited so after unloading please park you car down by the entrance gate.
No car? Or coming from further afield?
We are primarily a network of friends practising the Buddha's teachings together, and helping others to do so. This means there's almost always someone who can offer you a lift to the retreat centre from Auckland airport or the Thames Intercity bus stop - you just need to make this request in the booking form.
Alternatively, Thames is on the Coromandel route of the Intercity bus service departing Auckland: https://www.intercity.co.nz/north-island-buses
To get from Auckland Airport to the Intercity bus terminal, you can use the SkyBus express bus service: https://www.skybus.co.nz/auckland-city-express
Go-kiwi operates shuttle services between Auckland Airport and Thames, which may be an economical option if a group of you is coming on retreat together: https://www.go-kiwi.co.nz/
What to bring on retreat
As well as your personal gear, including warm clothes in winter you will definitely need:
Sleeping bag or duvet cover and sheet (there are some duvets available)
Pillow slip (there are pillows - you may prefer to bring your own)
Towel
Torch
Slippers or indoor-only footwear
You might need
Togs and swimming towel
Hat and sun protection
Mosquito net/repellent
Gumboots or other outdoor footwear
Raincoat
Earplugs
There are cushions, mats, blankets and a few meditation benches in the shrine room. You may like to bring your own if you prefer
You won't need
Anything that will prevent you from enjoying the space and simplicity of being on retreat, e.g. books, radios, mobiles, computers.
Kauri-die-back control
Sudarshanaloka is free from the deadly Kauri-die-back disease. Please help us keep it that way by thoroughly cleaning and disinfecting all footwear and outdoor gear before you leave home. For more information please click on the above link.
For more information visit the Sudarshanaloka website: https://sudarshanaloka.nz