Precepts of the Gurus – Padmasambhava
Order/Mitra retreat devoted to the great guru of Uddiyana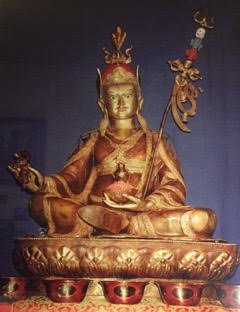 'Precepts of the Gurus' is a series of retreats themed on Sangharakshita's precious teachers or teachers from the Triratna Tree of Refuge and Respect.
This particular retreat is devoted to the great guru of Uddiyana, Padmasambhava. Padmasambhava is the archetypal guru, the archetypal teacher, the embodiment of the essence of enlightenment and summation of all the teachings of dharma. One of the things that he particularly embodies is teaching people, teaching individuals in their time, in their place, in a form they precisely and exactly need. This is the uppayakusala, the skilful means of all the Buddhas.
On this retreat we will be spending a lot of time in the shrine room - meditating and evoking Padmasambhava through reflection, ritual and puja. And we'll also be practising outside, at the Stupa, engaging with the elements and enjoying the deep winter new moon, bonfires, mantra and the star-lit sky. Formal teaching will be minimal but instead we'll be setting the scene and invoking Padmasambhava through reflection and our collective practice so that we may experience for ourselves something of Bodhicitta, the heart of the Buddha.
Open to Order members and mitras. (Others may be considered on a case by case basis).
Led by Guhyavajra, supported by Akasamati and Dhiraprabha.
Strictly no mobile phones or internet access permitted on retreat.
Numbers limited to 12 including those leading - Please book early to ensure a place.
When
Start: 02 August 2020 at 5:00pm
Finish: 09 August 2020 at 10:30am
Cost
Cost: $530 waged/$470 low or unwaged