Prajnaparamita practice retreat
Dipping into the Perfection of Wisdom in 8,000 lines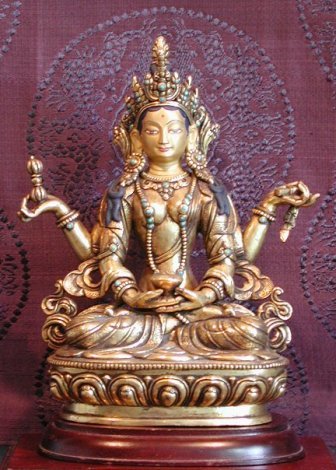 The Perfection of Wisdom Prajnāpāramitā forms the doctrinal basis of both Mahayana and Vajrayana
Buddhism, embodied in female form as the quintessence of Wisdom (Prajna).
The doctrine also has its roots in the fertile soil of the Pali Canon and is arguably the finest jewel in the crown of human spiritual awakening.
On this retreat we will be dipping into the 'Perfection of Wisdom in 8000 lines', exploring the text as the
key to the unimaginable treasury of the Bodhisattva Path. We will be contemplating the nature of space,
structure of the skandhas and significance of Going for refuge to the Buddha, Dhamma and Sangha.
There will be serious amounts of meditation, periods of silence, brief study followed by contemplation
out in nature, puja, ritual, readings and plenty of time for hiking, swimming and sitting on rocks
watching flies, up in the bush summer at Sudarshanaloka.
Strictly no mobile phones or internet access permitted on retreat.
If you've not been on retreat with us before, get in touch to check the suitability of this retreat for you.
When
Start: 14 January 2022 at 6:30pm
Finish: 21 January 2022 at 11:00am
Cost
Cost: $535 waged/$495 low or unwaged
If cost is a barrier please contact the Auckland Buddhist Centre to discuss