Monday night intro class
Every Monday at 7pm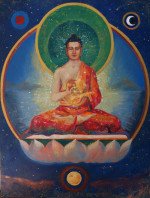 This class runs at the centre and yes, we run it on public holidays, too.
Get an introduction to meditation and Buddhism in our regular Monday night class. You can join any Monday at 7pm and no bookings are required. The class runs until 9.15pm.
Come to one class for a taste. If you like it, keep coming to the next 10 classes and you'll have completed all 11 themes of our intro to Buddhism and meditation class.
To find out more, check out the "Intro to Buddhism and meditation" class listings for every Monday over on our regular events page.
We also offer drop-in guided meditations. These are also listed on our regular events page.
When
Start: 08 August 2022 at 7:00pm
Finish: 19 December 2022 at 9:15pm
Cost
$20 for one / $180 for all 11
Full-time students by koha.
Please don't let money be a barrier whatever your situation - give what you can.